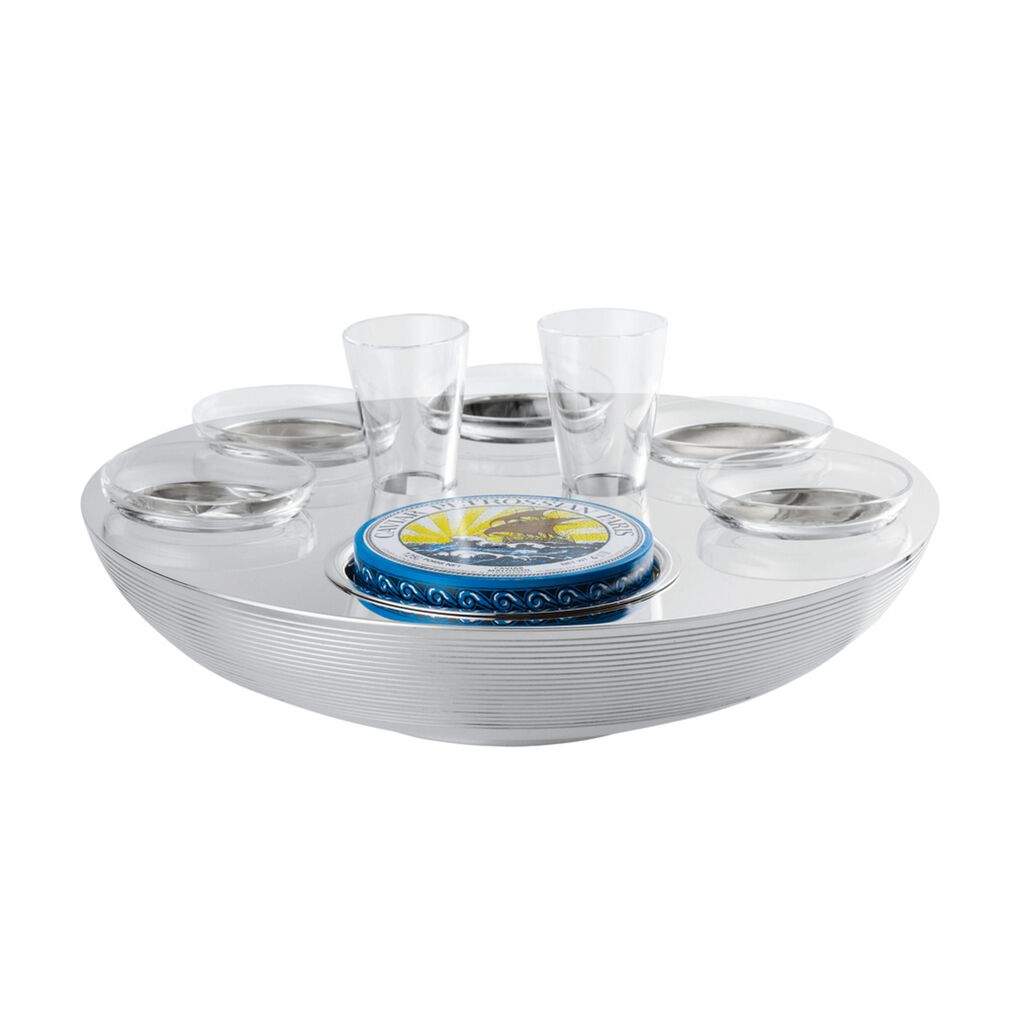 Escapade Transat
Caviar set
Notify me
Thank you for signing up, we'll let you know when this product is back in stock.
Product is already in notification list, we will let you know via email once product is back in stock. Thanks.
We are so sorry!
The product you have selected is not available at the moment. If you leave us your email address,we will notify you as soon as the product becomes available again.
Please enter a valid Email.
Mirror-effect finish enhances the high quality of stainless steel, emphasizing shapes and design. The surfaces are polished with additives and mechanical brushes made of different materials, which smooth the stainless steel lending it a high gloss. Reflections enrich the object, make it even more precious.
This silverware collection offers an elegant, timeless and contemporary design. It is the result of a demanding and refined creation for a collection dedicated to the pleasures of the table and entertaining.
Transat pays tribute to the history of Ercuis, which equipped the most legendary transatlantic liners for decades, including the France and the Normandie. This collection is the heir to the aesthetics of the great liners of the 1930s: pure and geometric, combining elegance and practicality. The design of the Transat collection is based on a strong creative idea: minimalist horizontal lines, finely engraved and inspired by the creations of the designer and decorator Jacques-Emile Ruhlmann, a leading figure of the Decorative Arts. These ornamental lines also avoid fingerprints on the holloware, making it easier to maintain. The Transat holloware collection is elegantly complemented by the Transat collection of silver-plated flatware, which features the same engraved lines pattern on its handles.
Brand:

Ercuis

Collection:

Escapade

Series:

Transat

Material:

Silverplated

Look:

Mirror Silverplated

Item number:

F545180-02

EAN:

8014808056369

Year of introduction:

null

End of life date:
Set composed by the following products:

Spare parts available:

Vodka Glass Cl 3|Glass|Spare Part|F540142-AA Round Caviar Cup Cm Ø 6,5|Glass|Spare Part|F544183-AA

Gastronorm dimension:

null

Maximum payload:

null
Diameter:

26,00 cm

Length:

null

Width:

null

Height:

11,50 cm

Capacity:

0.03 L

Weight of article:

3,20 kg

Internal diameter:

null

Internal length:

null

Internal width:

null

Internal height:

null

Blade length:

null

Thickness:

null

Special size info:

For 30, 50 or 125 gr caviar boxes / Glass spare parts: F540142-AA - F544183-AA

Package length:

36,00 cm

Package width:

36,00 cm

Package height:

15,00 cm

Weight of packaging:

null

Package weight:

3,20 kg

Volume of packaging:

6,5000 dm³